Mando Liniment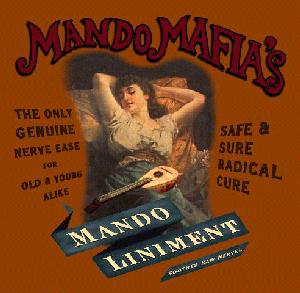 Released on CD in April 1997. Available for $16.00 (U.S.) including postage and packing from Pete Marshall, 1422 Gentry Lane, Charlottesville, Virginia 22903 (USA). Recorded at Virginia Arts Recording.
Announcing the long awaited follow-up recording to the highly acclaimed "Take Two'" ("Group of the year"...Trad Magazine, France). Recorded at Virginia Arts Recording Studio, Mando Mafia's "Mando Liniment" continues the exploration of their self-styled "Global String Band Music" using their 6 piece wall-of-mando sound filter. Winners of the Non-Traditional Band Award at West Virginia's Appalachian String Band Music Festival, the band pushes the boundaries further still with the addition of guest musicians and vocal numbers. Joining the sounds of old-time tunes of the 20s and 30s with reggae from Sweden, waltzes from Puerto Rico and England, and a march from Finland might sound like an unlikely combination, but their unique approach produces a highly cohesive album, a "safe and sure radical cure" guaranteed to "soothe raw nerves."
Playlist:
Split the ticket/Dark Clouds (originals: Pete Marshall/Kelly Perdue)
Traveler's Advisory/Rocktown (originals by Dan Rublee with clawhammer banjo)
Flatworld (ethnic waltz)
Rye straw (Old Time fiddle tune)
Lost Girl (OT fiddle tune with significantly original arrangement)
Riley's Groundhog (original song by Kelly Perdue)
There's a brown skin girl down the road somewhere(OT duet)
Grigsby's Hornpipe (OT fiddle tune)
Little Dan Sir (original by Kelly Perdue -- with BG banjo)
Slangen (swedish reggae tune!)
Charleston #1 (OT fiddle tune)
I went to the dance (original song by Rick Friend)
Lamb's wool rag/ Hell up coal Holler(OT with banjo)
Inio Brudmarsch (Finnish march)
Lost Indian/Happy Hollow (fiddle tunes)
Maria (Puerto Rican waltz)
Booth shot Lincoln/Down in the swamp/Glory in the meeting house(OT/Bela Fleck tune/OT)
There are guest appearances by Dan Rublee(clawhammer banjo), Robbie Caruthers(fiddle), Fred Boyce(bluegrass banjo), and Paul Brier(accordion).